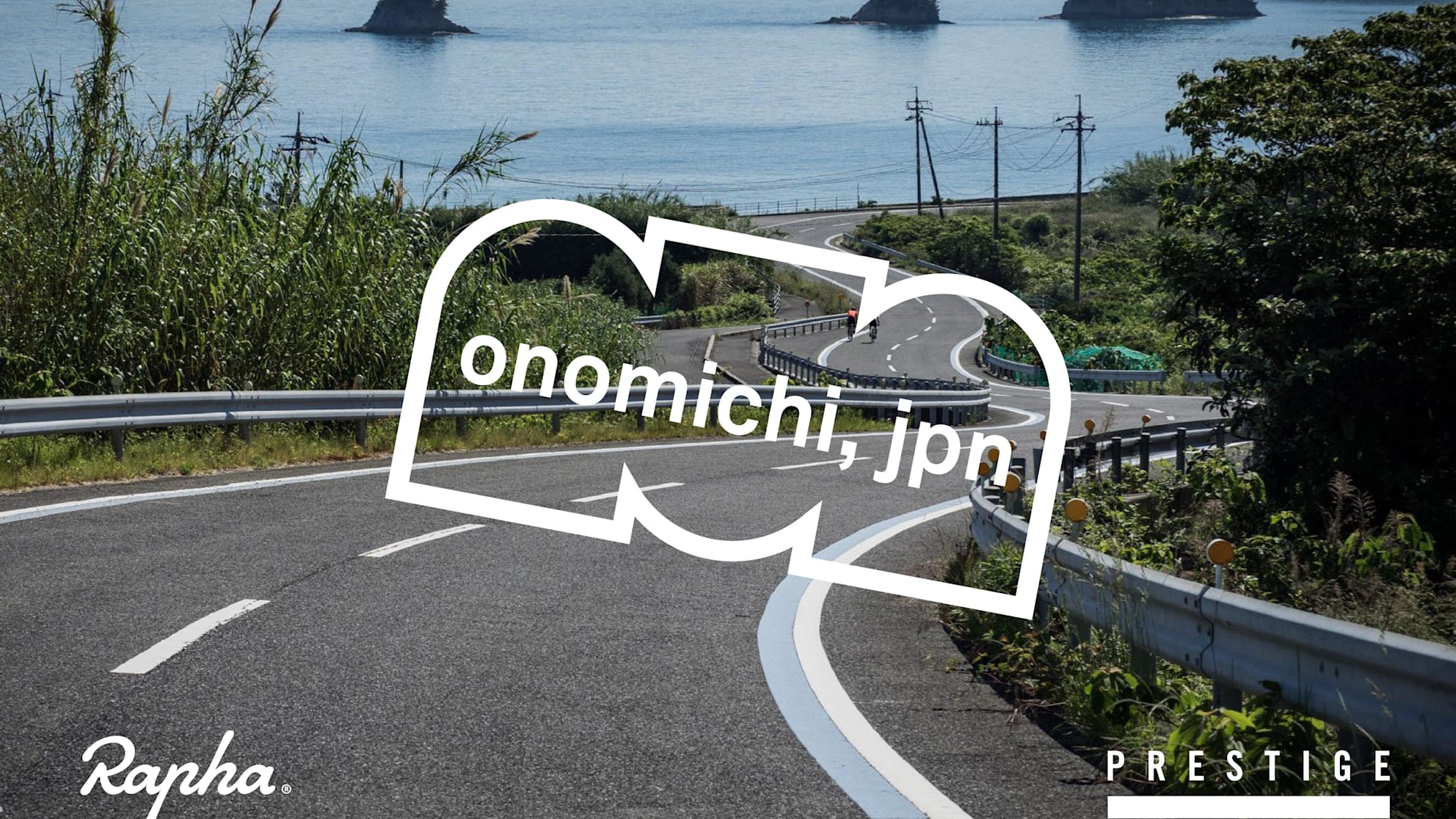 Rapha Prestige Onomichi
Adventure. Teamwork. Resilience
APPLICATIONS ARE NOW CLOSED
Rapha will contact successful teams on or after Friday, November 23 with a payment link.
An introduction to the Rapha Prestige
The Rapha Prestige tasks teams of riders with an all-day adventure across stunning terrain. Unsupported and unmarshalled, the rules are simple: start and finish as a team, and pass through all the checkpoints.
The Route
Distance:Approx.150km Elevation: Approx. 3,000m
The route will be revealed only to confirmed participants two weeks hours before the ride.

Onomichi has been an important trading port for centuries and is still a bustling centre of trade today. Set against a beautiful backdrop of rolling hills and mountains, the town is situated on a stretch of jagged coastline punctuated by many small islands just offshore. The region's smooth asphalt roads and gradual climbs are a cyclist's paradise and will be showcased on the route of the upcoming Rapha Prestige.
Rules
The Prestige is a completely unsupported ride. You are responsible for navigation and keeping yourself and your team going. Minimum kit should include two tubes, multi-tool, pump, patch kit, and a masterlink. We highly recommend spare kit and nutrition. A paper brevet card will be supplied as well as a .gpx file. Teams are required to ride together from start to finish on supplied route.
– Road bikes (must have drop handlebars)

– Taking safety into account first, follow the rules of public roads

– Entry of 4~5 members per team

– The entire team need to wear the same jersey (year of launch and color variations are permitted)

– Apart from those who dropped out, the entire team must always run together

– All members of the team must be present at the checkpoint to receive a stamp

– Each member must have enough equipment with them to handle situations in times of trouble as a team such as two spare tubes, a portable bike pump and portable tools, etc.

– You must ride the route provided by the organizers by confirming the course via instruments such as GPS devices.

– You must upload at least ten or more images on Instagram leading up to the event day, capturing the days preparing for the Prestige.

– Food will not be provided. Please provide your own nutritions.

– MotionX-GPS (GPS App) must be downloaded by one member within the team (download from URL below) and it must be kept activated throughout the event. //itunes.apple.com/us/app/id299949744

– Bring an extra smartphone battery (with enough power to recharge two times).

– Join the afterparty with 12 bottles of your favorite craft beer.

*As a safety precaution, the Rapha support team will regularly verify the location of every participating team via smartphone GPS app. In an emergency situation, they will drive to the scene to ensure safety and provide assistance.
After Party
After the event、there will be after party at Onomichi U2. (Details to be announced).
Schedule
Each team will set off at three-minute intervals from Onomichi U2, starting at 5am. There will be an after party starting at 19:00 at Onomichi U2. In the spirit of the Prestige, riders complete the course together before celebrating together. All teams are asked to bring locally sourced beers with them to share with team mates and other teams while sharing stories at the end of the day.
Teams
There will be space for up to 20 teams of four to five, with a number of spaces guaranteed for Rapha Cycling Club teams.
Entry Cost
Entries cost ¥25,000 per team. Each rider receives a complementary cap and musette with an exclusive design unique to Prestige you've ridden. Please bring 12 bottles of local craft beer to share with team mates at the after party.
Access to the Starting Point
By Car
From Tokyo/Osaka
Take the Sanyo Expressway and get off at Fukuyama West IC. About 20 minutes along the Onomichi Bypass
From Kyushu/Hiroshima
Take the Sanyo Expressway and get off at Onomichi IC. About 20 minutes along the National Route 184
From Shikoku
Take the Setouchi Shimanami Kaido Expressway and get off at Nishi Seto Onomichi IC. About 15 minutes along the Onomichi Bypass
From the Sanin region
Take the Onomichi Expressway (Chugoku-Odan Expressway Onomichi Matsue Route) and get off at Onomichi IC → About 20 minutes along the National Route 184
By Train
Sanyo Line
5 minute walk from JR Onomichi Station
Sanyo Shinkansen
15 minutes by taxi from JR Shin-Onomichi Station
When Flying In
From Hiroshima Airport
Take the Limousine bus going to Mihara. Take the JR Sanyo Line and get off at Onomichi Station. A 5-minute walk from there.
Take the Limousine bus going to Fukuyama. Transfer onto the Flower Liner at Takasaka Bus Terminal and get off at Onomichi Station. A 5-minute walk from there.
Accommodation
The Onomichi U2 Hotel will be the start and finish location for the Prestige and also provides the ideal location to stay the night before or after the event.
Other
If you are seeking for members for your team, we can help. Please feel free to contact: hirohide.kubota@rapha.cc If you are an RCC member, please contact your RCC coordinator.