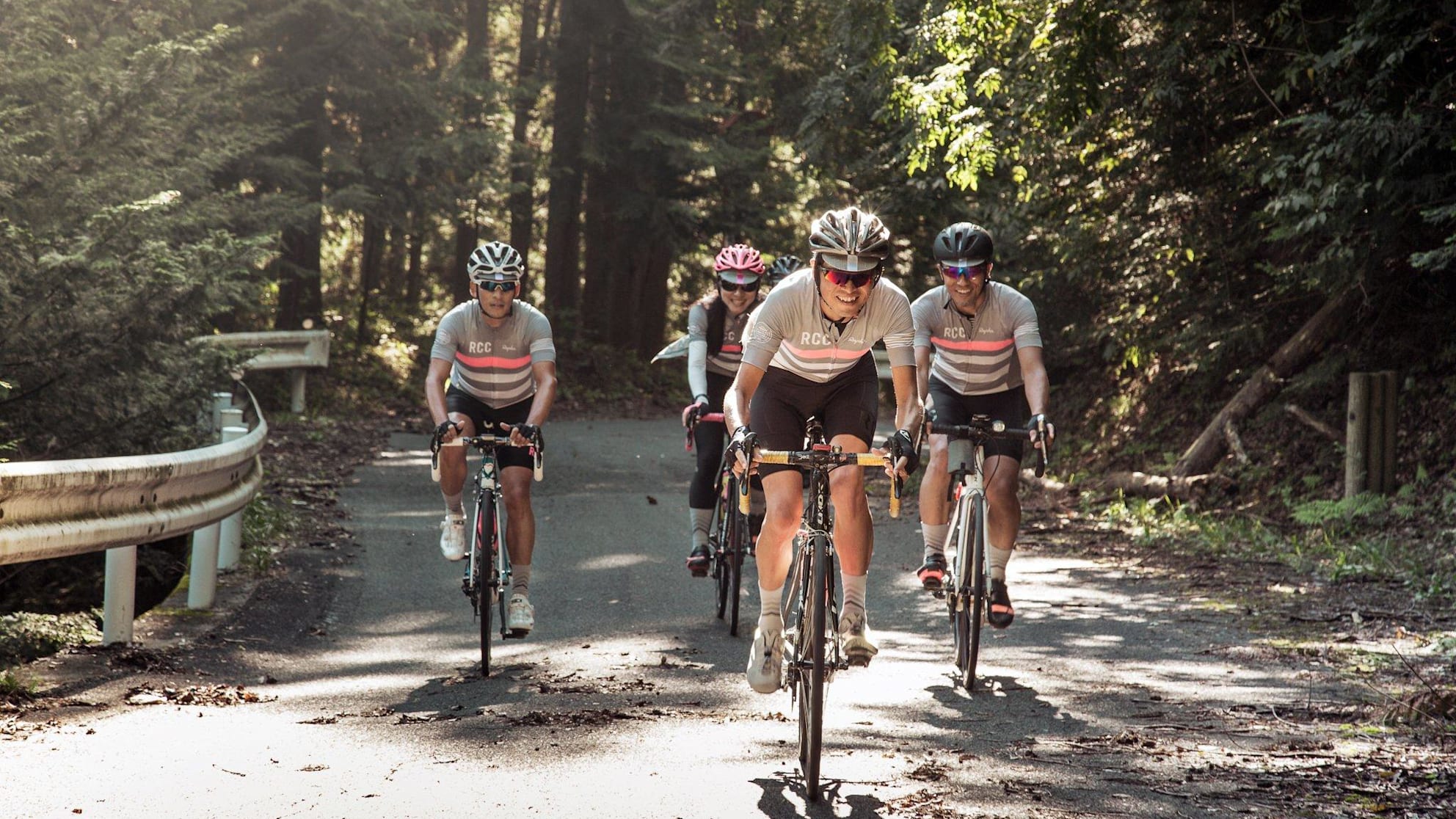 RCC Summit Japan
21–24 May 2021
THE RAPHA CYCLING CLUB SUMMIT JAPAN HAS BEEN POSTPONED AND REMAINS SOLD OUT
Hot on the heels of our latest Summit on the magical island of Mallorca comes the RCC's next great get together. In May 2021, members from around the world will descend upon the mountains west of Tokyo for a long weekend of riding and relaxing.

We'd love you to join us over countless kilometres of mountain and country roads, with ride lengths and pace groups to suit all abilities on the bike. When not riding, we'll recover in the abundant natural hot springs and replenish our hydration levels at the local sake and whiskey distilleries.

Having been the home of Rapha's Japan HQ for the last ten years, the small town of Hokuto at the foot of the Yatsugatake mountains is the perfect place to host this next RCC Summit. The infamous Nobeyama cyclocross race is held just up the road, while the area has also seen Rapha Gentlemen's Races, Prestiges, Continental rides, and much more. This is the heartland of Rapha in Japan.
Visiting in May, attendees will arrive as the last of the winter snow recedes and the green shoots of Spring emerge. With any luck, we'll experience sunlight streaming through the trees – a seasonal phenomenon known locally as 'komorebi' – and encounter Japanese 'kamoshika' mountain goats and monkeys along the way. With plenty of alpine climbs in the surrounding mountains, even the strongest of climbers will be satisfied with the terrain on offer.

Nonetheless, it is spending quality time with your club mates from Chapters around the world that makes an RCC Summit most special. We promise that you'll return home revitalised and motivated to ride more, together.
Summit Terms & Conditions of purchase
1. Once purchased, there is a 14-day cooling-off period, after which your place on the RCC Summit is non-refundable and non-transferable to an alternative Summit or any other Rapha products.

2. 30 day refund period cannot be offered on Summit places or associated transfer, bike hire products or additional programming tickets.

3. Transfer place to another member privately - up until 90 days prior to the event. Email RCC@rapha.cc

4. We recommend purchasing travel insurance at the point of your Summit purchase to cover yourself if you are unable to attend for personal, work or medical reasons.